Sam Villa, Allvus LLC

Motivating, creative, passionate, energetic, inspiring... these are just a few thoughts that come to mind at the mention of Sam Villa's name. Sam possesses a unique blend of technical and artistic skills - and a contagious spirit - that draw people in and make them want to learn! It's no surprise that he was chosen as the Favorite Platform Artist and Educator at the prestigious Stylist Choice Awards in 2007.
Sam has more than 25 years experience as a platform artist and educator for major salon professional companies. Sam is in constant demand at international and domestic trade shows and in-salon programs where his progressive teaching approach enables stylists to absorb new techniques quickly and for practical use in the salon. Sam's specialties include:
Team Motivation
Communication Skills
Continuing Education
Business Skills
To learn more about Sam Villa, Allvus LLC, please click here.
Solutions for Salons is here to structure a personalized solution that meets your business needs. Let's get started, please click here.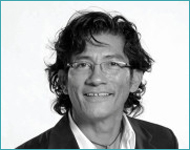 Sam Villa
Hungry for hot tips to help you through hard times? Sam Villa offers exclusive survival skills for the successful stylist that promise a new-found understanding of growth and longevity.
Read More
Peter Millard
Peter Millard knows exactly how salon design can directly affect the success of your business. Join him for "Reinventing Space for Increased Profibility" and ignite your retail growth!
Read More
Virtual Salon
Our "virtual salon" represents the real-life Salon West in Largo, FL. This prosperous salon and spa has implemented many of our business solutions.
Take the Tour